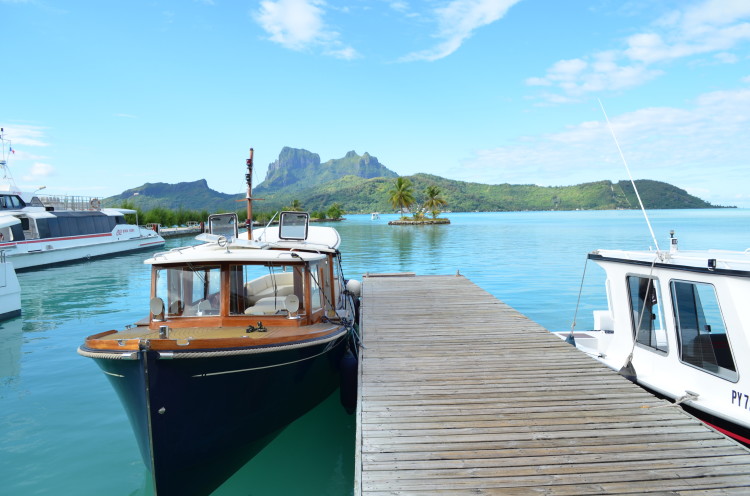 10 Things You Must Do In Bora Bora
Don't leave us until you've checked these from your Bora Bora Bucket List.

1. Go snorkeling. The water around here is as clear and sparkling as Windex. Go under the surface and witness a stunning Technicolor display of tropical fish, coral, and gliding manta rays. You can set out independently on foot from the beach or lagoon—we provide the facemask and snorkels at Heremoana— or charter a boat with a guide to get to some of the more out-of-the-way snorkeling spots.
2. Explore the lagoon via your own boat. You can also rent a small, easy to handle four-seater boat and motor around the lagoon on your own—a great way to explore the complex and photo-worthy ecosystem of French Polynesia. No boating license necessary!
3. Watch the sunrise from the Here Moana Bungalow terrace. A simple pleasure we highly recommend. French-press a steaming cup of coffee or boil some water for tea, sit back and enjoy the show.
4. Eat a slab of flawless grilled fish at Bloody Mary's. The service, food, sand floors, thatched roof, and Mount Otemanu views make Bloody Mary's a Bora Bora institution. It's almost always packed with tourists, but Bora Bora is a small island—most good places are! When you arrive at Bloody Mary's, you'll choose the fresh fish you want from its bed of ice—with a local expert's help if you need it—and they'll toss it on the grill for you right then and there. Reservations are highly recommended.
5. Visit the Marotetini Marae, a sacred ceremonial ruins spot at the seaward edge of Faanui marked with large upright stones. This marae was restored in 1968 by an archeologist named Yosihiko Sinoto, and is a short walk away from the Bungalow.
6. Take a Safari Tour to the top of the mountain. Panoramic sea, sky and mountain views await if you take a 4WD Safari Tour to a fruit plantation perched high above Faanui. We recommend Swain Tours, found online at swaindestinations.com.
7. Take a bike ride along the Faanui Bay, and grab a photo of the iconic pale pink church set against the mountains. We provide the bikes, bike locks and helmets under the Bungalow in the storage spot. You bring the camera!
8. Spend an afternoon on the beach. Recharge with at least one afternoon of indulgent beach lounging.
9. Learn about Bora Bora's—and Faanui's—WWII history. Faanui was used as an Allied naval base during WWII. Check out the (unmarked) concrete wharf on the north shore, built by the Allies for seaplanes to land.
10. Take a walk. We love simply setting out on foot, getting a lay of the land and seeing what we can discover by chance. Leave yourself open to an adventure you never planned for—and will never forget!
And one more tip: please feel free to get in touch with us—Ed and JoAnne—any time, for even more recommendations and suggestions! We're happy to help you make the most of your vacation in Bora Bora.