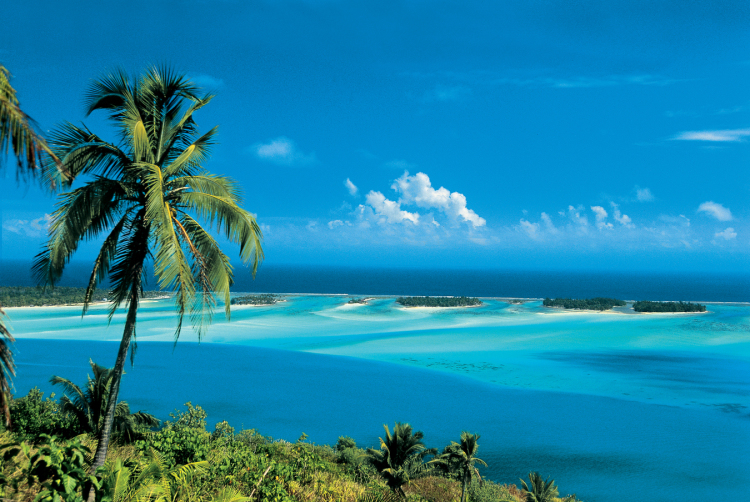 A Bora Bora honeymoon can kick-off a marriage in an amazing way.
Have you heard about these guys?
Alexandra and Nicolas of Spain recently ditched a traditional church wedding in favor of exchanging vows in a stylish underwater ceremony beneath the surface of a Bora Bora lagoon.
The couple said "I do" before a Polynesian priest and wore white diving suits for the occasion. A photographer was on hand to capture their unique nuptials with a series of futuristic-looking images.
Alexandra and Nicholas are certainly not alone in finding a dreamy moment on the surreal island of Bora Bora. Tahiti and Bora Bora regularly make top "honeymoon destination" lists, thanks to its matchless beauty, built-in romantic ambiance and bungalows built for two. Not to mention a whole host of couples excursions that bring you closer and give you a remarkable first set of married-life memories.
In fact, we (Ed & JoAnne, owners of the Here Moana Bungalow in Faanui, Bora Bora) shared one of our most romantic moments under the turquoise waters of Bora Bora. JoAnne was certainly not expecting an underwater marriage proposal that day—but she said yes!
Why Choose a Bora Bora Honeymoon?
The beauty.
Studies show that being surrounded by breathtaking beauty brings couples closer together.
Okay, so that's not exactly a study (not that we can find, anyway). But in our non-professional experience, it's nearly impossible to be stressed, angry, overwhelmed, or snippy with each other when facing a view of the full, orange sun rising to start the day from the aqua lagoon, or parking on the beautiful beach at Matira with a couple of lounge chairs (we provide those for you at Here Moana Bungalow!) for a long, dreamy afternoon.
The romance.
Bora Bora is a romantic, sensual place, with vivid colors, soft sand for hand-in-hand strolls, gourmet dining, and accommodations that have lovebirds in mind.
And Bora Bora is, of course, famous for its overwater bungalows, which perch above the dynamic waters of the lagoon. Romantic getaways are never better than in a setting like that.
In 2014, we transformed our overwater bungalow, Here Moana, from a modest bungalow to a romantic haven. We outfitted it in gauzy fabrics and installed warm, contemporary fixtures. Our bedroom suite, with its local art, luxurious linens, and walk-in shower for two, will make it difficult to leave the bungalow at all.
The activities.
But you should. There's so much to do during a Bora Bora honeymoon, from snorkeling the Technicolor waters to mingling with locals at the beach bars and restaurants, to renting a boat or kayak to explore the lagoon together. Not to mention cooking dinner together at the Bungalow's sleek designer kitchen (if you stay with us at Here Moana), and enjoying it out on the balcony suspended above the lagoon.
And a whole lot more.
They say a marriage is built on memories. The ones you make here in Bora Bora will likely be among your most treasured. We think you'll want to come back for your ten-year anniversary—and your 50th!
We would love to provide our romantic Bora Bora bungalow for your unforgettable honeymoon. Contact us to let us know when the Big Day is and we'll add you to our reservation calendar!